---
July 7th 2011 - Passport Altered !
- It appears my passport have been used, altered and distributed without my awareness in a massive user net operation to stop a girl from fleeing China...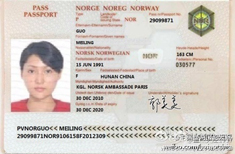 The girl is called Guo Meimei and is a suspect in an ongoing scandal involving The Red Cross, Corruption and Luxury.
It looks like a reporter with the newspaper China Business produced the new passport on grounds that he did not want the story to die down. Even though it was not very professionally made it seems to have done the job. Apparently thousands of chineese netizens called the Australian embassy to look out for a fictional Norwegian passport and demanding her visa application withdrawn...
[044] Even More Nonsense About Guo Meimei Baby (06/28/2011)
zonaeuropa.com
Korrupsjon, Røde Kors, Maserati og et norsk pass
aftenposten.no
Guo Meimei Red Cross Controversy Pissing Off Chinese Netizens
chinasmack.com
If you come across new relevant info,
please mail me.

---
This project is about Nations.
Macro, Micro and most of all Nano nations.
To threat people as individual sovereign nations, interact and having a bit of fun.
The Macro nation:
Nations we know of who authenticate our passports toward other macro nations and govern the land we live in and its resources. Its way of regime, or lack of one, intervien with us every day.
The Micro nation:
Smaller newly formed or old nations Not de factoed by the established Macro sosiety on grounds of politics or seriousness. usually more unorthodocs approaches and curiously than the Macro nation. Its up to you to find them.
The Nano nation:
As the international community tries to make right and wrong, make deals, break deals, so do you. Every actions you do, have a consequence, how ever little. and if you take responsibiliy for those actions, you should be granted the full authority over those actions. If however, your actions causes such a stir that other nano nations or federations of such complain, you have to deal with it. Ergo, sum, you are a country in Nano scale running around playing international law.
The macro nation that once identified us have now become a co-op of commen goods and sevices. Globalization has fragmented our personalization needs into the point where any culture is to be digested . If you want to identify, alienate or just purchase, its your pick and choose.
---
Jan 12th 2006 - Entity Established
The Royal Norwegian Ministry of Finance officially recognized me as Republicof
Jun 22nd 2006 - Passport
The Royal Norwegian Embassy in London issues my new passport
Jan 12th 2009 - Currency
Produced in collaboration with the Norwegian Post office (Posten Norge) and printed by Finland Post Corporation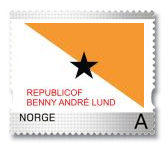 As the stamp is a certified paper evidence of a fee paid for postal services, it can also be used as payment in a transaction. thus making it a highly legal currency.
The value of this certified paper is only set to "A". Which in turn is tied up to the current and future price of the norwegian postal service A-priority, inland, 20gr. Currently 1 A = 8 Nkr.
---
NORGES MERKELIGSTE PASS?
dagbladet.no, 12.01, 2007
link (in norwegian)
link (in english)
REPUBLICOF BENNY ANDRE LUND Samfunnsviter´n, Issue 1, p.4-5, spring, 2008
KEISER AV KINA I TRE KVARTER
Tønsbergs Blad, Kultur p.5, 22.01, 2008
pdf
DIREKTØRER FOR DET HELE
DogA Magasinet, p.7 , 2008
pdf
PERSPEKTIV
Klassekampen, print, p.48, 12.01, 2008

SYTTEN TRETTI
P4 (Radio) 12.01, 2007
BENNYS BURSDAG
Tønsbergs Blad, Kultur p.1, 15.01, 2007
pdf
Criticaldictionary
Issue no. 6,
criticaldictionary.com/, spring, 2006
link